About the Company
Tally is a consumer tech company pioneering full-service financial automation. Founded in 2015, the company is democratizing financial services to put billions of dollars back in people's pockets. It built the first fully automated debt manager to help people overcome credit card debt and provides a completely free automated savings service, Tally Save. Tally's vision is to automate people's entire financial lives so they can worry about money less and do what they love more.
Jason Brown - CEO & Co-Founder
Jason founded Tally in 2015 with a mission to make people less stressed and better off financially. Growing up in a family that struggled to make ends meet, Jason knows first-hand how important financial health is to a person's overall well-being. A repeat entrepreneur, Jason also co-founded solar finance company Gen110 and premium tech support company Bask.com. He received his MBA from the University of Chicago Booth School of Business and B.S. from Boston University.
Jan Chong - VP Of Engineering
Jan joined Tally in 2020 to build out and lead its engineering team. Previously, she was a long-time executive at Twitter where she oversaw a team of 300+ and played a critical role in launching and scaling its core mobile and web products. She received multiple degrees from Stanford University, including her B.S. and M.S in computer science and Ph.D in management science and engineering.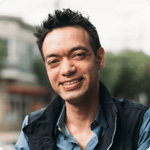 Anthony Schrauth - VP of Product
Anthony joined Tally in 2020 to lead product development. Previously, he was Chief Product Officer at Betterment, the world's first and largest independent robo-advisor, where he was one of the original team members. Before joining Tally, he was Head of Product at insurtech company Two Sigma IQ. He received his B.S. in economics from The Wharton School of the University of Pennsylvania.